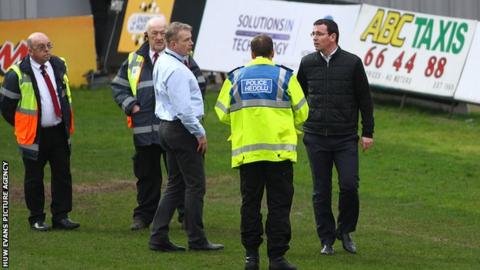 Blackpool manager Gary Bowyer says he was struck by missiles thrown by Newport County supporters during his side's 3-1 victory at Rodney Parade.
Bowyer says he was struck on the the face and expects both the Football Association and Newport to investigate.
"The FA have to act, it's as simple as that. Newport County should act as well," Bowyer told BBC Sport.
"I've been hit with objects. The lack of stewarding was incredible. These scenes shouldn't be seen anywhere."
He continued: "I won't let it drop. If I was a member of Newport County I would make sure that doesn't happen again.
"It could have hit the Newport staff, because they were close by as well.
"It will be investigated, the referee (Brett Huxtable) has made me aware of that, it will be in his report.
"There were sweets thrown, hard-boiled sweets, I think there was a bottle and I wouldn't mind but they weren't my favourite sweets.
"But, in all seriousness, there has to be action taken. You can't have that.
"Just because you pay some money to get into the game doesn't give you the right to do that."
Newport County are yet to comment on the matter.