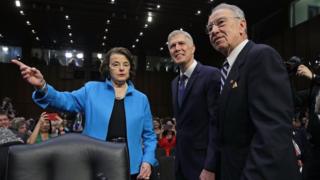 Senators have clashed at the confirmation hearing for Supreme Court nominee Neil Gorsuch over why the post was not filled under President Obama.
The seat was vacated with the death of Justice Antonin Scalia 13 months ago.
Democrats railed at a "historic dereliction of duty" in not granting a hearing for Mr Obama's choice.
Republicans said that would have left Justice Scalia's legacy "in grave danger" and handed the democratic process to "five unelected lawyers".
Neil Gorsuch largely took a back seat early on at the Senate Judiciary Committee hearing. He will be the last on Monday to deliver his address, and will face questions on Tuesday and Wednesday.
The hearing began with addresses from the chairman, Republican Chuck Grassley, and ranking Democrat Dianne Feinstein.
Mr Grassley hailed Mr Gorsuch's "exceptional record", saying he had shown unfailing commitment to "the preservation of our constitutional order and the separation of powers".
---
More on this story
---
But Ms Feinstein began by citing the Republicans' block on Barack Obama's nomination of federal appeals court judge Merrick Garland to replace Justice Scalia.
She said she was "deeply disappointed that it is under these circumstances that we begin this hearing".
Democrat Senator Dick Durbin told Mr Gorsuch: "Your nomination is part of a Republican strategy to capture our judicial branch of government."
Fellow Democrat Senator Sheldon Whitehouse said he feared Mr Gorsuch's appointment could lead to another "Republican 5-4 special interest spree".
If Mr Gorsuch, 49, is approved by the Senate he would restore a 5-4 conservative majority on America's highest court.
But Senate Republicans pointed to a quote by then Judiciary Committee chairman, the Democrat Joe Biden, in 1992 saying then President George HW Bush should not name a nominee to any Supreme Court post until after the upcoming election.
Senator Lindsey Graham said if the Democrats had been in the same position last year they would have acted the same way.
"I don't think any injustice has been done," he said.
Republican Ted Cruz said "Justice Scalia's legacy would have been in grave danger" if Mr Obama's choice had been allowed.
"We would have seen the democratic process controlled by five unelected lawyers in Washington DC," he said.
In delaying the choice until after the election, "the American people played a very direct role in choosing this nominee", he said.
As far as Mr Gorsuch's qualification for the post was concerned, senators did not dispute his "impeccable academic record".
Mr Graham, although pointing out his well-known opposition to Donald Trump's election campaign, said the president should be praised for picking the "best choice available".
Republican John Cornyn said there was a "broad spectrum of people supporting your nomination".
---
How does the process work?
Monday: Each of the 20 committee members reads a 10-minute statement, followed by Mr Gorsuch
Tuesday-Wednesday: Mr Gorsuch to be questioned on a range of political and legal issues
Thursday: Outside witnesses testify for or against the nomination
Committee vote: Members report the nomination to the full Senate, favourably, unfavourably or without recommendation
Senate procedural vote: Republicans have a 52-48 majority in the Senate but Democrats can push to raise the required threshold to 60 votes. If they do, Republicans can use the so-called "nuclear option" to change the rules to allow a lower vote threshold
Senate full vote: Will be a simple majority, if the above procedural hurdles are overcome
---
However, some Democrats hinted at the issues that would form part of his grilling over the next two days.
The first was whether Mr Gorsuch would be too close to Mr Trump.
Patrick Leahy asked: "Will you rubberstamp a president whose administration has asserted that executive power is not subject to judicial review?"
President Trump has lambasted judges for ruling against his bid to restrict travel from certain Muslim-majority nations, a subject that may come up for Mr Gorsuch.
The second was abortion rights. Ms Feinstein emphasised that the landmark 1973 ruling, Roe vs Wade, was a "super precedent" that should be protected.
A third was employer rights.
Democrats seized on the case of lorry driver Alphonse Maddin.
He was told to stay in his freezing vehicle for hours after it broke down. After he disobeyed the order he was fired. Judge Gorsuch gave a dissenting ruling on a three-judge panel, writing it was not up to judges to answer whether the employer's decision was "wise or kind".
But Mr Cornyn praised Mr Gorsuch for following the law "where it leads, that's how the rule of law works", whether that meant rulings for employees or employers, or whether they were pro- or anti-government.
Democrat Senator Mazie Hirono was arguably the toughest on Mr Gorsuch, questioning him on the lorry driver case, as well as on minorities and women's rights.
She said Mr Gorsuch "rarely seems to find in favour of the little guy", asking: "We need to know what's in your heart."
Limited options
It is unclear whether Democrats will try to block Mr Gorsuch's confirmation.
If they do, their options are limited.
Republicans control the Senate and they can change the chamber's rules to make it easier to confirm Mr Gorsuch if any attempt is made to block him.
They hope to have Judge Gorsuch, currently a judge on the Denver-based 10th US Circuit Court of Appeals, confirmed before Congress leaves for recess on 7 April.