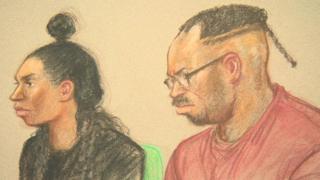 The parents who disguised the death of their baby by pretending she had died on a London bus have been convicted of causing or allowing her death.
Rosalin Baker, 25, and Jeffrey Wiltshire, 52, had denied murdering 16-week-old Imani in September 2016.
The child was found to have multiple injuries including 40 rib fractures, a broken wrist and fractured skull.
The pair were acquitted of murder but were told by Judge Nicholas Hilliard to expect a "substantial sentence".
The Old Bailey heard other passengers on the bus in Stratford tried to help save the baby after Baker, of Newham, east London, claimed she had suddenly become ill.
'Very significant pain'
She told the jury her abusive partner had forced her to take the dead child with her in a sling in order to "frame" her.
But Wiltshire, who claimed to have fathered 25 children, told the court: "I'm not a life taker, I'm a baby maker".
Prosecutor Duncan Atkinson QC said Imani, who was on the child protection register, was attacked three times in the week of her death.
He said the infant would have been in "very significant pain and distress" from injuries caused by her arm being twisted or pulled, her chest being squeezed and being thrown against a hard surface.