COLUMBIA, MO. • We start this week closing the book on spring football, which ended with Saturday's Black and Gold Game. That means no more football for about 15 weeks, until the start of preseason camp. And no real football until Sept. 2 when Mizzou hosts Missouri State in the season opener.
1. EXPLORING MU'S DEPTH
Here's an educated crack at Mizzou's depth chart coming out of the spring and a look at where newcomers could fit into the mix. This is by no means official. Missouri doesn't release a post-spring depth chart.
QUARTERBACK
Drew Lock, Jr.
Jack Lowary, So. or Micah Wilson, RsFr.
Newcomer: Taylor Powell, Fr.
The word: Lock won't be dislodged from the starting job. He enters the season with more career starts than any SEC quarterback at his current school. (LSU's Danny Etling has 22 starts combined at Purdue and LSU. Lowary was more accurate than Wilson in the spring game (63.6 percent to 46.7) and tossed two long touchdowns to Emanuel Hall. This looks like a camp showdown for the backup job. Don't count out Powell, a late addition to the 2017 class who thoroughly impresses coordinator Josh Heupel.
RUNNING BACK
Damarea Crockett, So.
Ish Witter, Sr.
Dawson Downing, RsFr.
Isaiah Miller, Fr.
Nate Strong, Jr.
Newcomer: Larry Roundtree, Fr.
The word: Crockett and Witter sat out the spring game as a precaution, which tells you all you need to know about their value to the offense. There's a wide gulf between the top two backs and the rest of the pack. Downing, a walk-on, earned the start with the first unit and averaged 5.2 yards per carry, though 31 of his 47 yards came on one run. Miller, a true freshman, ran 14 times for 57 yards with one long gain of 18. Strong, coming off a three-week suspension, had a 16-yard run but averaged just 2.1 yards per carry on the rest of his attempts.
RECEIVER (OUTSIDE)

+3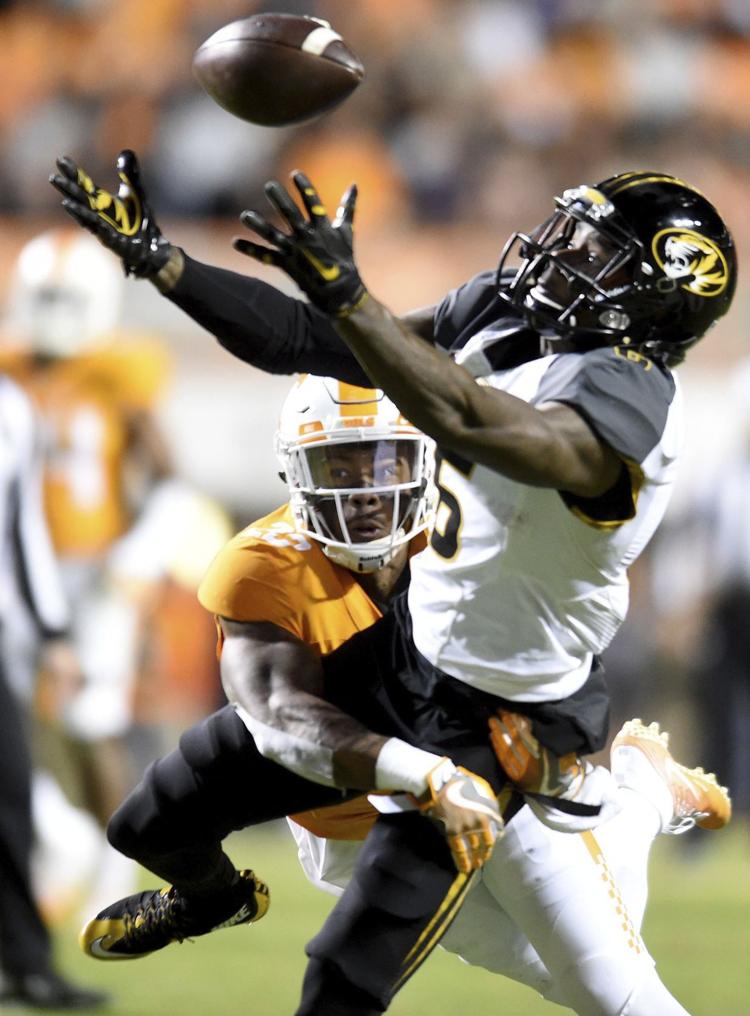 J'Mon Moore, Sr.
Nate Brown, Jr.
Dominic Collins, Sr.
RECEIVER (SLOT)
Johnathon Johnson, So.
Richaud Floyd, So.
Ray Wingo, Jr.
RECEIVER (OUTSIDE)
Dimetrios Mason, So.
Emanuel Hall, Jr.
Justin Smith, So.
Newcomers: O'Shea Clark, Fr., Da'Ron Davis, Fr.
The word: The starters figured to be locks to start the season. Moore is the SEC's only returning 1,000-yard receiver. Hall snagged two deep balls for touchdowns and gives the offense a credible deep threat. The slot position was a popular target in the spring game with nine of the 22 receptions among Johnson, Floyd and Wingo. Brown sat out the final few weeks of practices with shoulder injury but is expected back for camp. 
TIGHT END
Jason Reese, Sr. or Kendal Blanton, Jr.
Albert Okwuegbunam, RsFr.
Brendan Scales, RsFr.
Newcomer: Logan Christopherson, Fr.
The word: Blanton missed the entire spring after undergoing ankle surgery. He'll see plenty of snaps as the group's most dynamic downfield and red zone threat. Okwuegbunam enjoyed a strong spring and gives the passing game another big target. Scales will help immediately as a blocker but can catch, too. Expect a steady rotation based on personnel groupings and matchups.
LEFT TACKLE
Tyler Howell, Sr.
Yasir Durant, So.
LEFT GUARD
Kevin Pendleton, Jr.
Kyle Mitchell, Jr.
A.J. Harris, So.
CENTER
Jonah Dubinski, So. or Alec Abeln, Sr.
Trystan Castillo, RsFr.
RIGHT GUARD
Adam Ploudre, Sr.
Tre'Vour Simms, So.
RIGHT TACKLE
Paul Adams, Jr.
Sam Bailey, Jr.
Pompey Coleman, Fr.
Newcomers: Larry Borom, Fr., Case Cook, Fr., Hyrin Morrison White, Fr.
The word: The staff did lots of shuffling during the spring, especially along the interior. Dubinski, Abeln and Castillo all took snaps at center, while Abeln worked at guard, too. Heupel said he's not opposed to rotating centers if multiple players prove they're good enough to earn playing time. Howell, Pendleton and Adams were the only linemen to start all 12 games last year. They probably won't budge from their starting roles. Bailey is the wild card. He was MU's week 1 starting center last year before an ankle injury sidelined him for a chunk of the season. He took snaps at left and right tackle in the spring game.
DEFENSIVE END
Marcell Frazier, Sr.
Tre Williams, RsFr.
Franklin Agbasimere, So.
DEFENSIVE TACKLE
Rashad Brandon, Jr.
A.J. Logan, Sr.
Tyrell Jacobs, So.
DEFENSIVE TACKLE
Terry Beckner Jr., Jr.
Markell Utsey, So.
DEFENSIVE END
Nate Howard, Jr.
Jordan Harold, Sr.
Newcomers: Ends – Nate Anderson, Jr., Chris Turner, Fr.; Tackles – Walter Palmore, Jr., Malik Young, Jr., Akial Byers, Fr., Caleb Sampson, Fr., Kobie Whiteside, Fr.
The word: Beckner and Utsey missed the spring while recovering from knee injuries, while Frazier missed the final week with a broken arm. All three should be back for camp. If all the newcomers qualify and enroll on time, new D-line coach Brick Haley will have a suddenly crowded room with lots of options for the front four rotation. Brandon was especially impressive this spring and might have played well enough to nudge one of the few veterans from the starting lineup.
WILL LINEBACKER
Terez Hall, Jr.
Joey Burkett, Sr.
Brandon Lee, Jr.
Roderick Winters, Jr.
MIKE LINEBACKER
Eric Beisel, Sr.
Cale Garrett, So.
Joey Burkett, Sr.
SAM LINEBACKER/NICKELBACK
Kaleb Prewett, Jr.
T.J. Warren, So.
Tavon Ross, Jr.
Grant Jones, Jr.
Newcomers: Jamal Brooks, Fr., Aubrey Miller Jr., Fr.
The word: Prewett thrived in the hybrid outside linebacker/nickelback role and led all players with six tackles in the spring game. The K-State transfer can tackle, blitz and cover from the position and could give the defense an added dimension of versatility. Lee opened the spring at the Sam but moved over to Will and didn't see much time with the top units in the spring game.
CORNERBACK
DeMarkus Acy, So.
Finis Stribling IV, Jr.
Jerod Alton, RsFr.
CORNERBACK
Logan Cheadle, Sr.
Christian Holmes, So.
Newcomers: Terry Petry, Fr., Adam Sparks, Fr.
The word: Cheadle and Holmes sparred for the starting job through most of the spring. Expect both to play opposite Acy, who showed flashes as a freshman last year and gives the perimeter of the defense a long, speedy defender who can challenge taller SEC receivers on deep balls. The freshmen should get a shot at playing time.
SAFETY
Anthony Sherrils, Sr.
Ronnell Perkins, So.
Anthony Hines, Sr.
SAFETY
Cam Hilton, Jr.
Thomas Wilson, Sr.
Newcomers: Joshuah Bledsoe, Fr., Tyree Gillespie, Fr., Jordan Ulmer, Fr.
The word: The top four or maybe five could all see significant reps based on personnel packages. Sherrils and Wilson started the spring game with Hilton sitting out the final week while coming off shoulder surgery, but Hilton and Perkins also got spring work with the first unit. Perkins is the group's best tackler and figures to have a regular role in the secondary in some capacity.
---
2. HOOPS RECRUITING CONTINUES
All quiet on the Jeremiah Tilmon front. Kevin Knox II hosted coaches from his five finalists on Tuesday (Florida State and Kentucky) and Wednesday (North Carolina, Mizzou and Duke).
And, a new name has since emerged as a guard option for Mizzou: Canisius grad transfer Kassius Robertson. Read more about this recruiting development.
---
3. PINGETON GOES OVERTIME
In Friday's paper we wrote about Mizzou's women's basketball program and its heightened expectations for the future. Here's more from Tigers coach Robin Pingeton:

+3 

On Sophie Cunningham (back) and Cierra Porter (knee) recovering from injuries that plagued them through the season: "Sophie is going through some physical therapy now, and we're hoping by taking an extended amount of time off we'll be able to navigate through that and she'll be able to get back to 100 percent. The biggest factor for both of them is the constant pounding. You're able to take a day or two here or there but then you go back into it and you don't have the time you need to heal. Cierra's is going to be more of an ongoing challenge for us. Taking time off helps, but it's never going to go away. It's something she's going to have to play through for the rest of her career."
On Jordan Frericks' impact when she returns from season-ending knee surgery: "She's our truest back-to-the-basket player and she doesn't mind that physical play underneath. When you look at what she's done in her career statistically that was a big piece we didn't have last year. She was just getting to the point going into last season she had spent a lot of time on that 15 to 17-foot jump shot that was looking really good. She was trying to add to her game. She was in a really good place before her injury. But I don't think that's something that will be lost coming back. It's something you can still get a lot of reps (with) stationary shooting. She's spent a lot of time on that. That's going to be a great addition from a rebounding standpoint. She can score and defensively she was such an anchor for us. It'll allow us to toy around with moving some players around. It'll allow us to be a little bigger. We've got some post players that with a lot of skill work this offseason we can slide over into a wing position. It allows for some potential height on the perimeter. We've been solid but it could look different."
On Kansas transfer and likely starting point guard Lauren Aldridge: "My expectation is that she would compete for a starting spot. You never know with your new kids coming in and your kids returning and who's going to put in the work in the offseason. She's got a real shot at logging some extensive minutes for us at that point guard position. She got great experience at KU and played a lot of minutes there. She'd tell you she's more of a pass-first point guard but she does have the ability to score. She's got a really high basketball IQ. She does a great job just being a floor general. I was really impressed with what I saw in our practices with her running our scout team. For Lauren, that experience under her belt playing with the scout team, because it was more of a motion offense than what she was used to, gave her some really good experience before actually suiting up. … She's got really good handles. She's got good court vision. She pushes the ball really well. She is a very good distributor. But she's definitely got the ability to knock down shots, too. She'll be a great addition."
On Mizzou athletics recovering from the 2015 campus protests and racial unrest: "We went through a couple tough years on campus with things that happened. We stubbed our toe a little bit. That impacted some recruiting, which is unfortunate, because what we went through on campus is going to propel us to be an even greater campus. We didn't sweep things under the rug. We're addressing things head on and learning from them and being open minded and growing from them. That's awesome. That's why it's going to help us become that much stronger. When you're going through it, it might hurt you a little bit, but in the big picture, some of the things we've put in place not only in the athletic department but on campus it'll help us grow."
4. QUIN AT 50

+3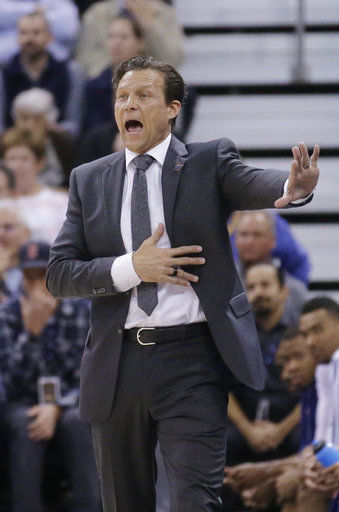 It was 18 years ago this month that Missouri handed its men's basketball program over to Quin Snyder, then just a 32-year-old Duke assistant with no head-coaching experience. The Tigers are now on their fourth coach since the program unraveled under Snyder's watch, but at age 50, he's having his best season in coaching. (And he barely looks a day older than 38.) In his third year as an NBA head coach, Snyder led the injury-riddled Utah Jazz to 51 regular-season wins, the franchise's best mark in eight years, and the No. 5 seed in the Western Conference playoffs. The Jazz and Clippers are tied 1-1 and play Game 3 Friday in Utah, the franchise's first home playoff game since 2012.
Snyder has been interviewed countless times since Mizzou fired him in 2006 but he's rarely discussed his downfall that put him on a long, windy road to Salt Lake City.
"It's a pretty serious discussion," Snyder told the Orange County Register this week. "If you would write about that, you could write a book." (Yes, please!)
When the Jazz hired Snyder away from the Atlanta Hawks' staff in 2014, it became his sixth coaching job in the pros since he left Mizzou.
"When you go through adversity and you want to keep doing it, you find out you're in the right place and are doing the right thing," Snyder said in the interview. "I just try to keep working and keep learning. I just love being around people."
5. TIGER TALES
If the Missouri baseball team expects to make an NCAA regional, the Tigers are going to have to start collecting some wins. The Tigers, down to No. 56 in the NCAA's RPI rankings, dropped Tuesday's home game to Missouri State (No. 18) and now face a three-game series at Ole Miss (No. 42) to start the second half of SEC play. Both teams are 7-8 against league competition. Ole Miss is last in the SEC in batting average, slugging and on-base percentage, so this could be the weekend Mizzou's starters can put up some clean frames and rest a busy bullpen. … How good has reliever T.J. Sikkema been for the Tigers? The freshman lefty began the week leading the SEC in wins (six) and opponent's batting average (.161) and ranked fourth in ERA (1.49), 10th in strikeouts (57) and 10th in saves (four). … Mizzou softball lost its last two SEC series heading into this weekend's three-game homestand against Kentucky but still owns a strong enough RPI ranking (No. 28) to expect a spot in an NCAA regional. Kentucky is No. 16 in the NCAA's latest RPI ratings. … If contracts fall the right way, Pingeton said she expects Mizzou's nonconference schedule to be the toughest the Tigers have played in what will be her eighth season as coach. … Newly committed 2018 quarterback James Foster was bumped up to a four-star recruit by ESPN.com and ranks as the nation's No. 89 overall prospect for next year's class and the No. 5 dual-threat quarterback.