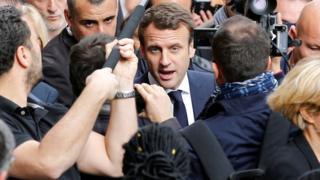 The campaign of French presidential candidate Emmanuel Macron says it has been the target of a "massive hacking attack" after a trove of documents was released online.
The campaign said that genuine files were mixed up with fake ones in order to confuse people.
It said that it was clear the hackers wanted to undermine Mr Macron ahead of Sunday's second round vote.
The centrist will face off against far-right candidate Marine Le Pen.
The documents were leaked on a file sharing website late on Friday, as the official presidential campaigning period drew to a close.
Mr Macron's En Marche movement said internal campaign documents, including emails and financial data, had been taken in an "act of massive, co-ordinated hacking".
"The leaked files were obtained several weeks ago by hacking personal and professional email accounts of several officials of the movement," it said in a statement.
Earlier, separate security alerts in and around Paris marred the final day of campaigning.
A suspected radical Islamist possessing weapons and a pledge of allegiance to IS was arrested north of the capital.
And Greenpeace activists scaled the Eiffel Tower to unfurl a banner, sparking an emergency police meeting.
Polls had suggested a strong lead for Mr Macron in the presidential race.